Paris will always be Paris:
the capital of light and lustre, elegance and creativity.
Tollet Jewellers introduced, early on, five Parisian jewellery houses which are leading the way.
Five styles, five visions of jewellery, five irresistible temptations.
---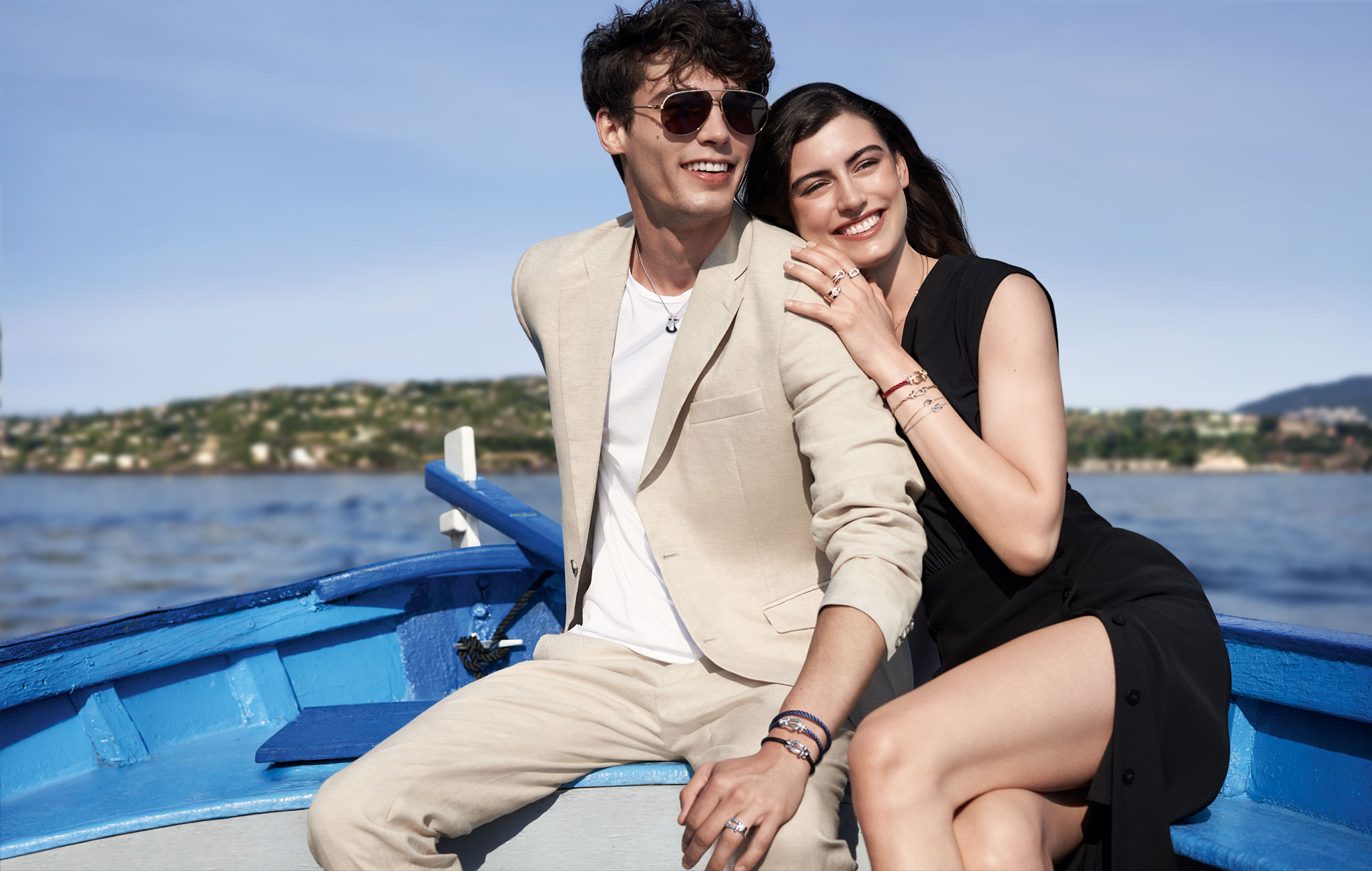 FRED: nautical style in Paris
It's more than a piece of jewellery that Fred has created, it's a symbol of freedom and stylish relaxation: the Force 10 bracelet. A surging wave of luxury and energy inspired by the world of the ocean. His daring innovation in 1978 was to combine a steel marine cable with a gold shackle-clasp. Since then, the Force 10 collection has been riding the wave of valued versatility.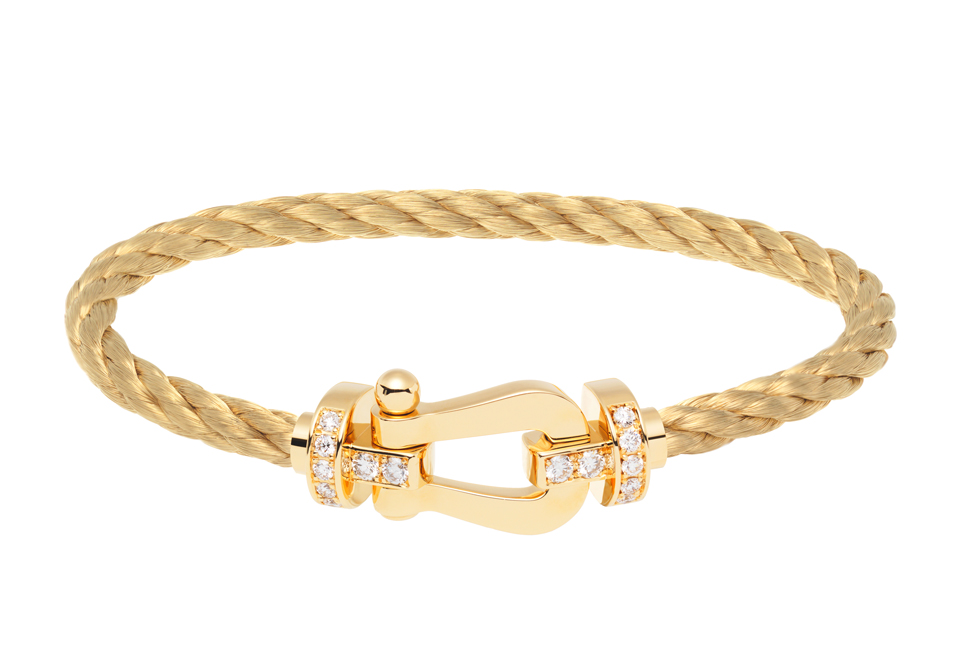 Golden treasure
Force 10 bracelet, large model, secures a fabulous yellow gold cable to a yellow gold shackle-clasp, set with 14 brilliant-cut diamonds: 10,070 €.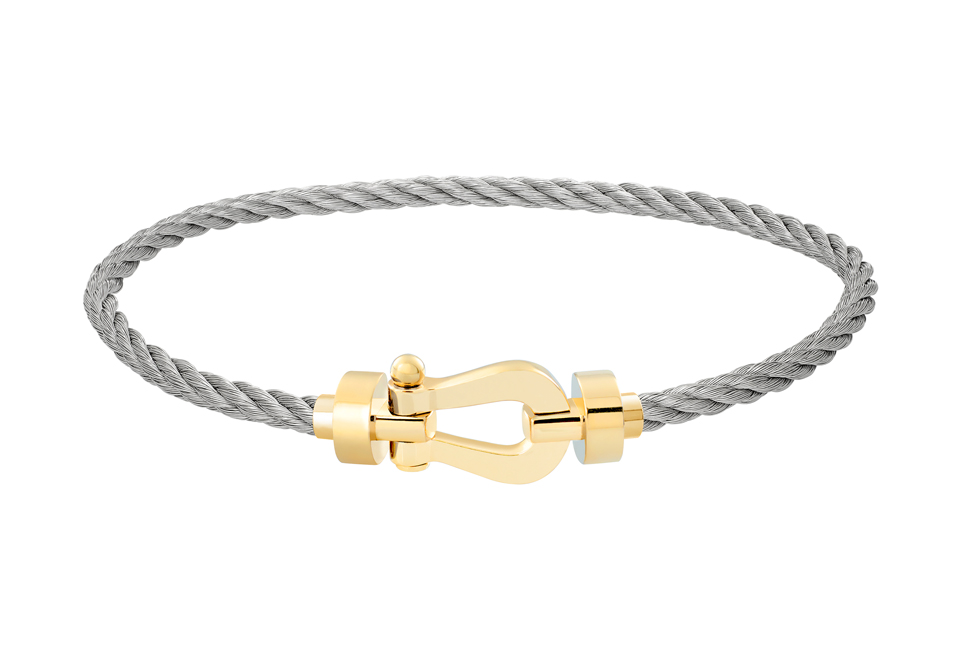 Refreshing duo
On the one hand, the icy tones of a stainless steel cable and, on the other, the warmth of a yellow gold shackle-clasp, Force 10 bracelet, medium model: 2,020 €.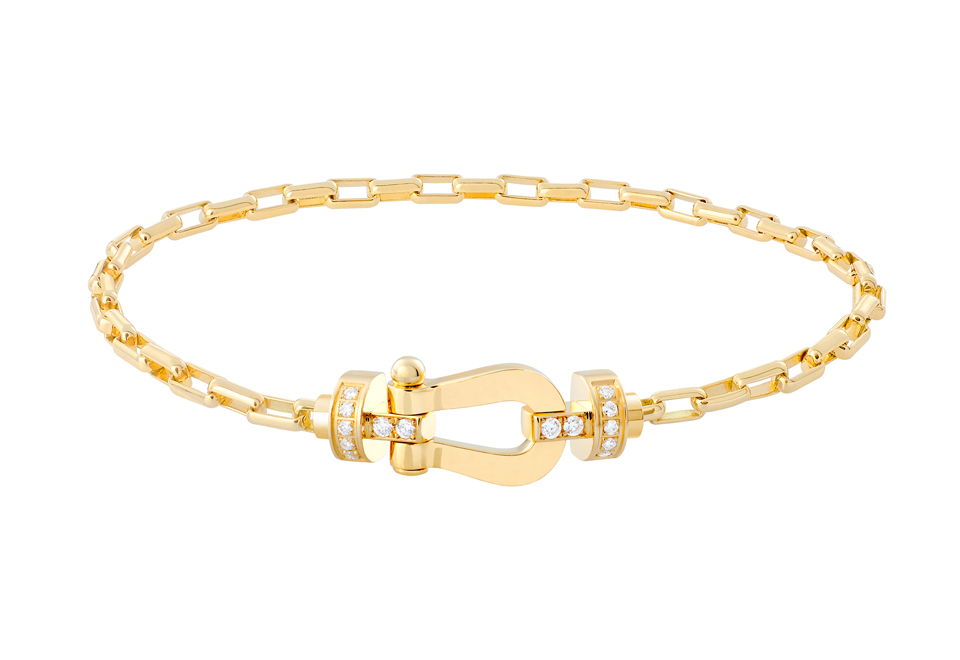 Light and delicate
Force 10 bracelet, medium model, uniting a graceful yellow gold chain with a yellow gold shackle-clasp, set with 14 brilliant-cut diamonds: 4,070 €.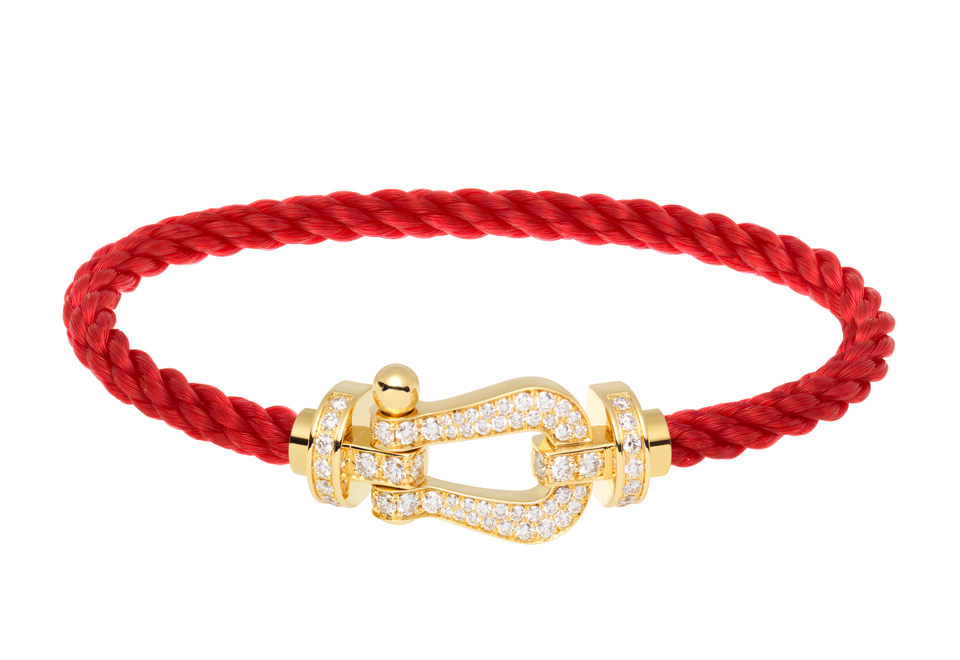 Fiery glow
A red ropemaker's cable highlights a yellow gold shackle-clasp, completely set with 64 diamonds (0.9 carat). Force 10 bracelet, large model, ropemaker's cable: 7,960 €.

dinh van: eternally modern
Once you're wearing a piece of jewellery by dinh van, you don't want to take it off. It transcends time and always remains just as contemporary. What's the source of this power? The House of dinh van was the first to introduce minimalism and design to jewellery-making! In 1976, a key ring elevated to a clasp became the main motif of the emblematic Menottes collection. True to their origins, the new designs continue to display a subtle and graphic kind of luxury.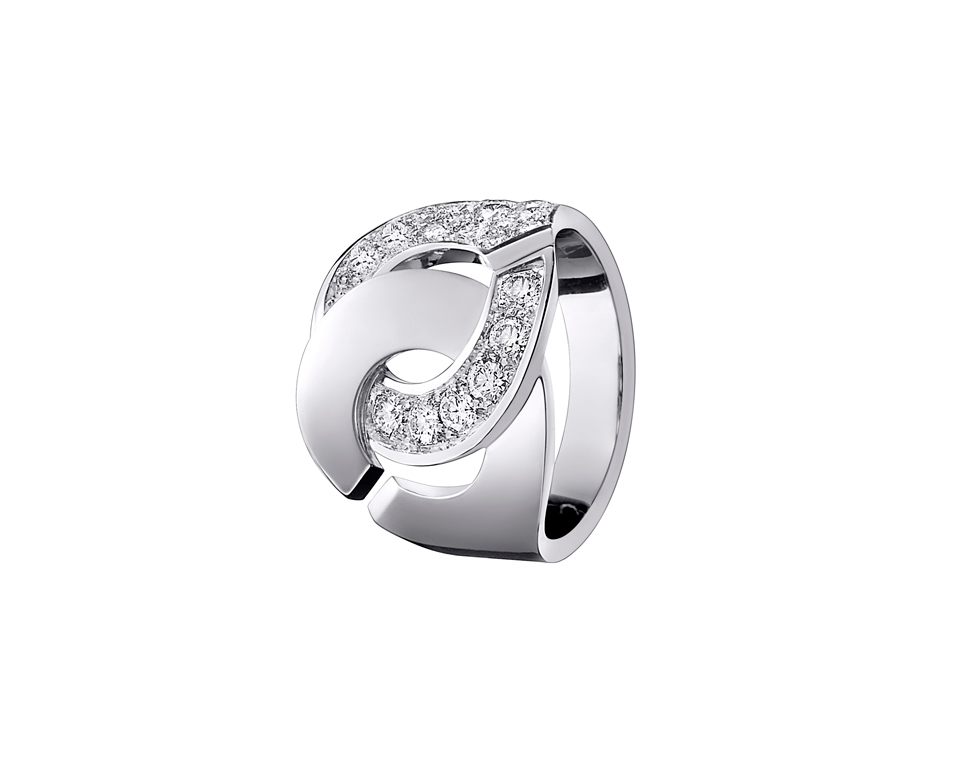 Essential
Strength of simplicity, beauty of unity: Menottes R16 ring in white gold and diamonds: 6,100 €.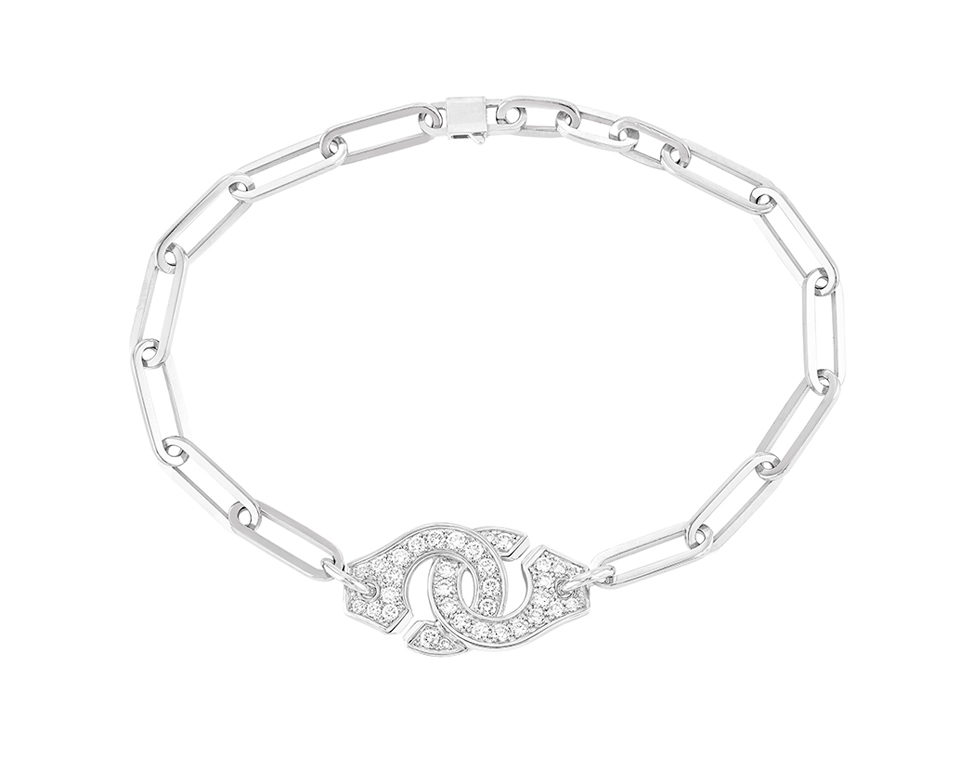 Symbolic
Embodying attachment and balance: Menottes R12 chain bracelet in white gold and diamonds: 4,200 €.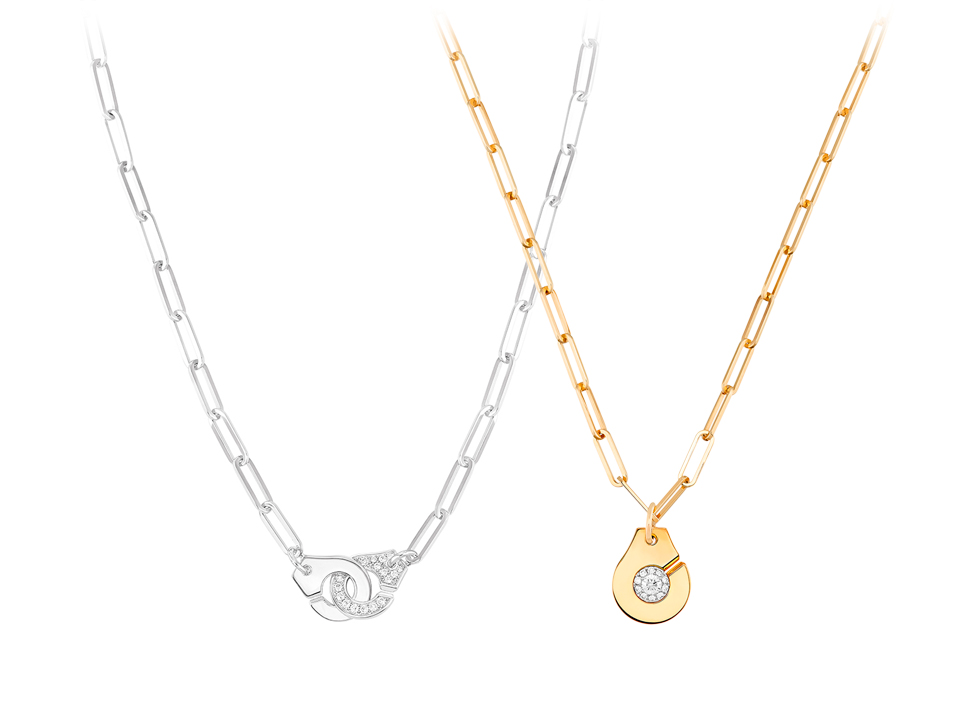 Sleek
Sleek and simple links serving a venerated motif: Menottes  R12 necklace in white gold and diamonds: 5,450 €.
Luminous
In the motif presented solo, the diamonds are as though suspended. Menottes R15 necklace in yellow gold and diamonds, dinh van L chain in yellow gold: 7,600 €.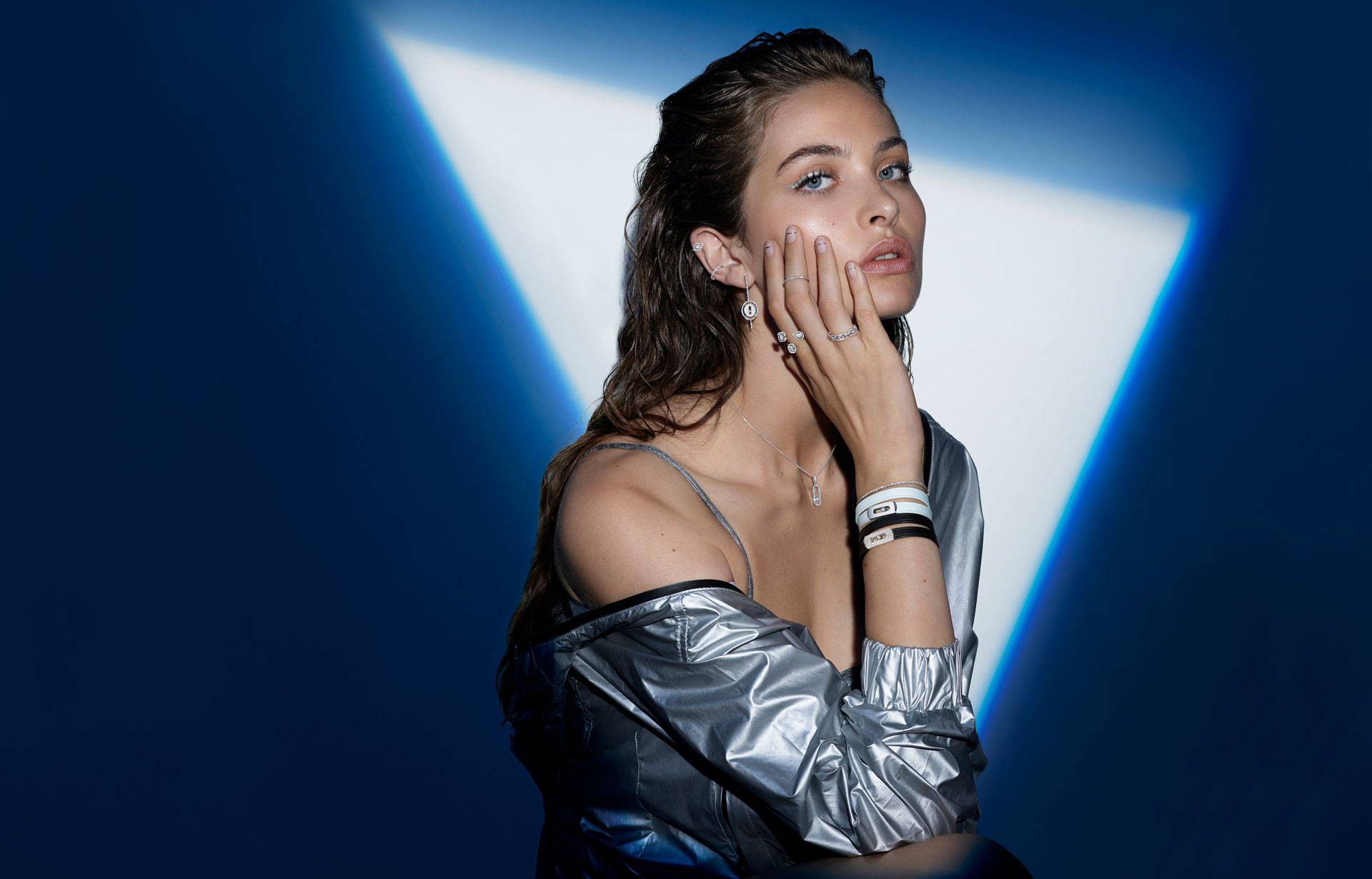 Messika: diamonds for all those moments
Pushing back the frontiers of style has always been the dream of Valérie Messika. Slender, graceful, tactile: Messika diamond jewellery pieces encompass the youth, cheekiness and cheerfulness of their creator. Since the launch of the first Move collections, Messika has achieved the challenge of combining the timelessness of diamonds with a look that's sexy, simple and sophisticated all at once.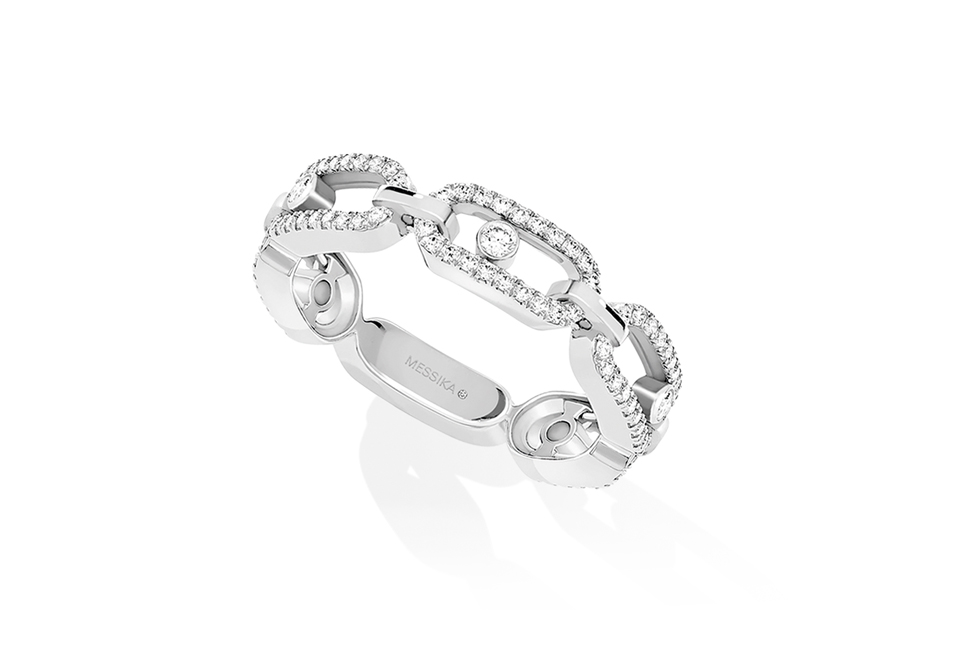 Rhythmic
The Move link, a gold cage in which a diamond moves around freely, multiplies to your heart's content in the new Move Uno Multi Pavée ring. White gold and diamonds: 2,880 €.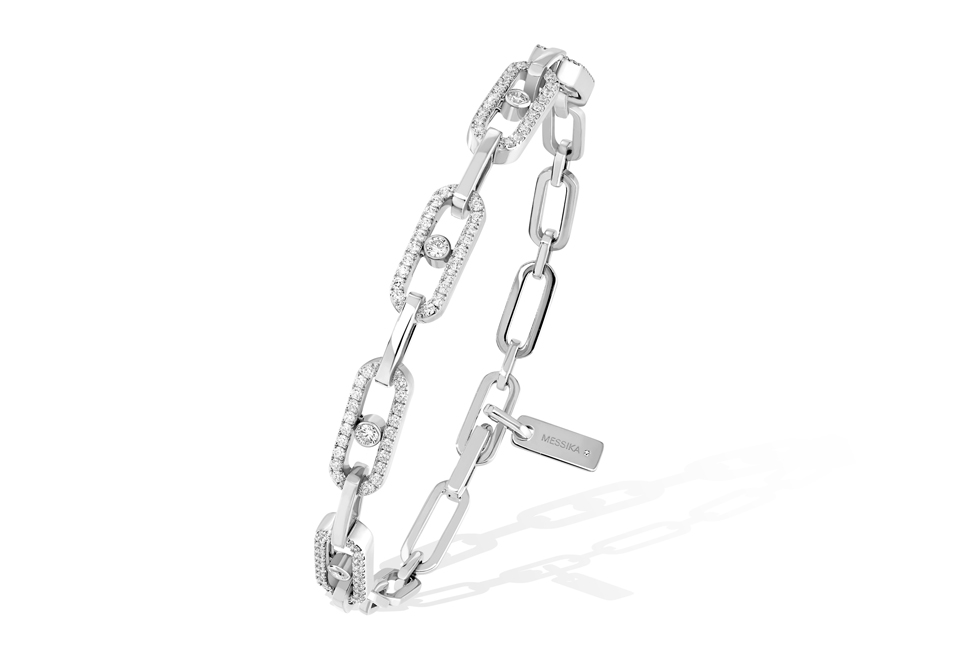 Flowing
The white gold links of the Move Uno Multi Pavé diamond rivière bracelet repeat the Move motif: a central diamond brings each of them to life: 7,590 €.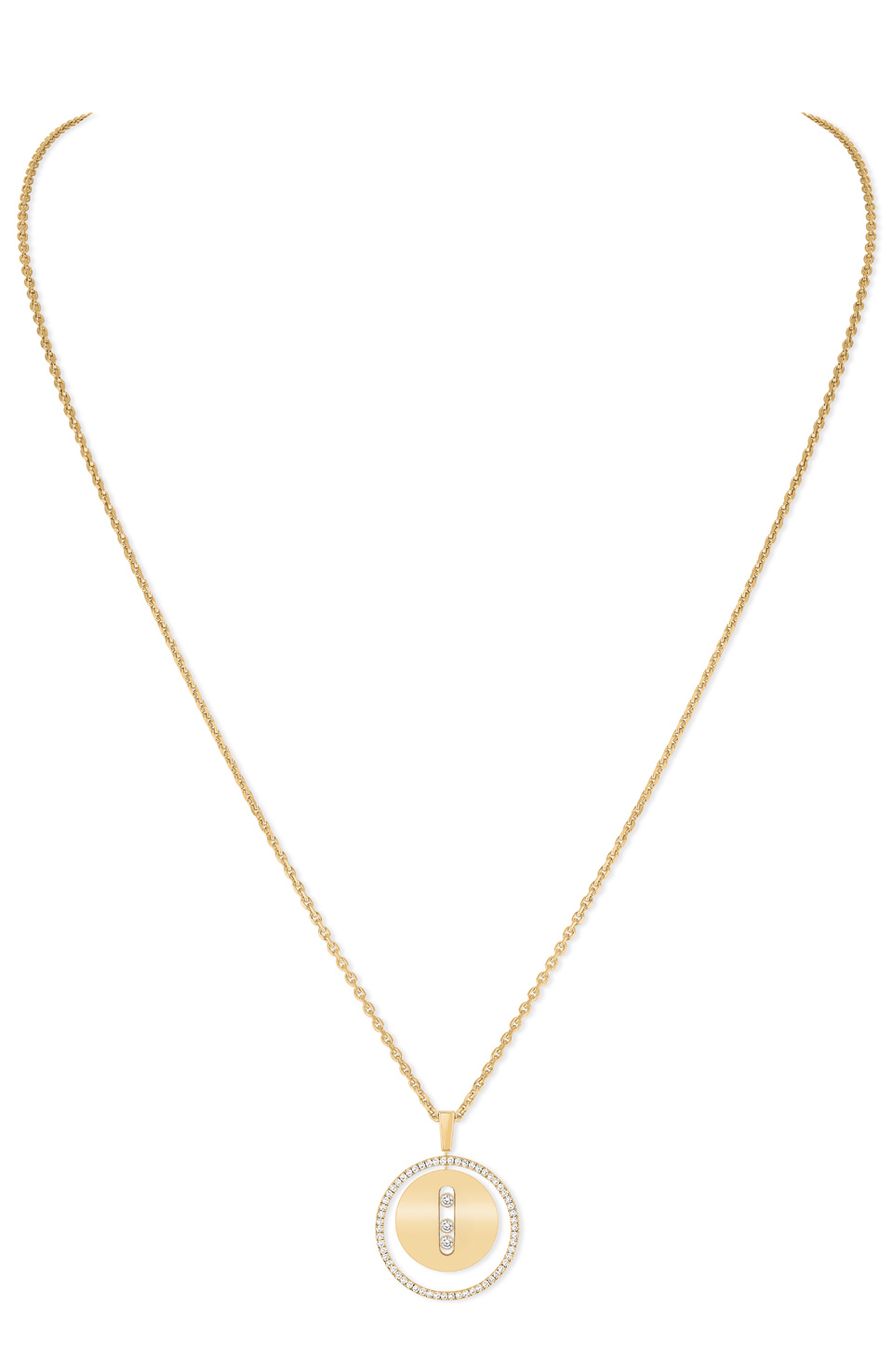 Sentimental
It's easy to believe in your luck: you just have to wear this Lucky Move Uno necklace, inspired by talismans. Yellow gold and diamonds: 5,700 €.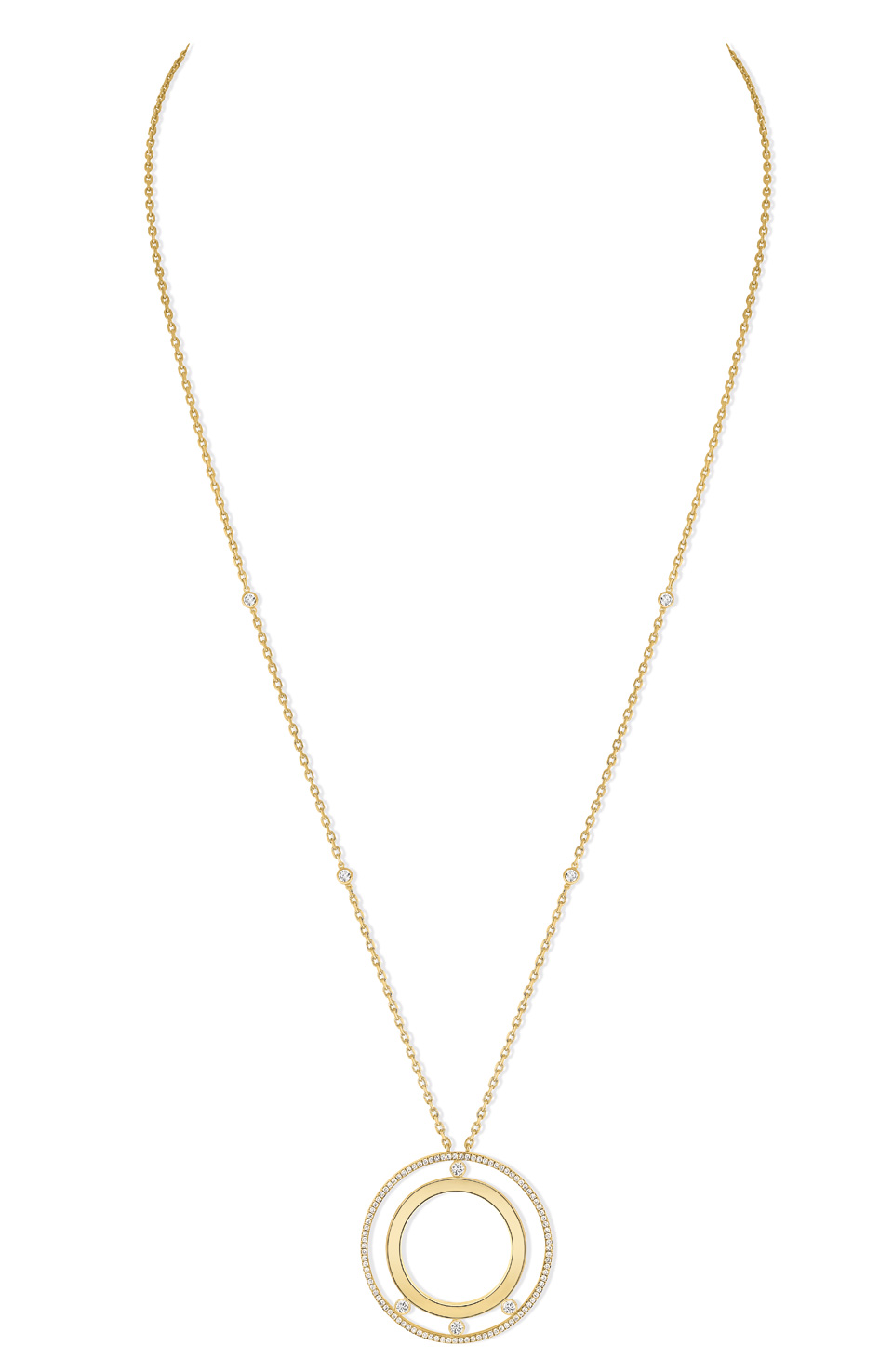 Architectural
The Move Romane necklace can be worn to suit your mood, as a long or shorter necklace thanks to the sliding gold chain. Yellow gold and diamonds: 8,500 €.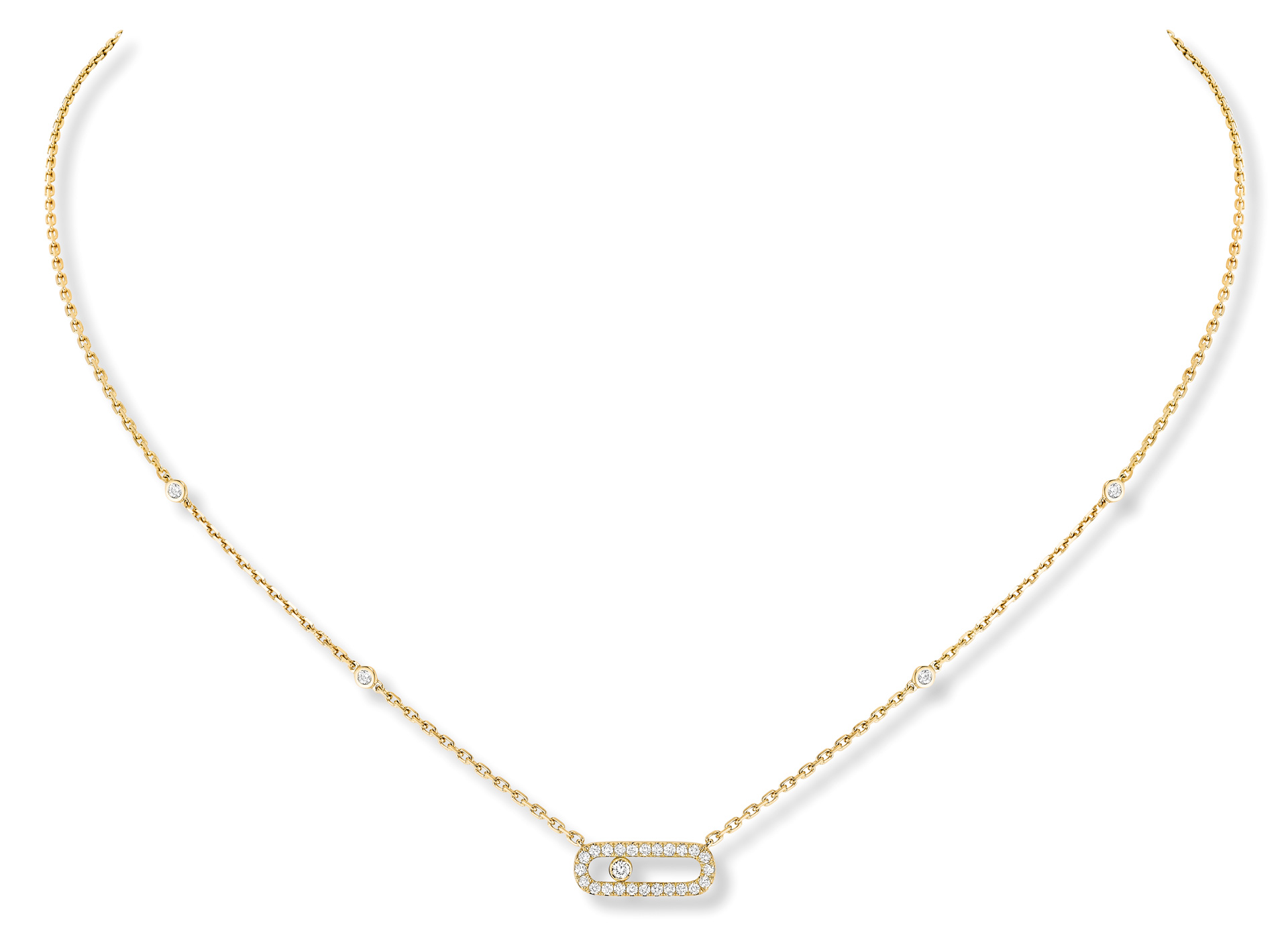 Iconic
Its fine and delicate gold chain shows off the precious pavé gold cage: a moving diamond slides around in it and sparkles with every movement. Move Uno Pavé yellow gold and diamond necklace: 2,090 €.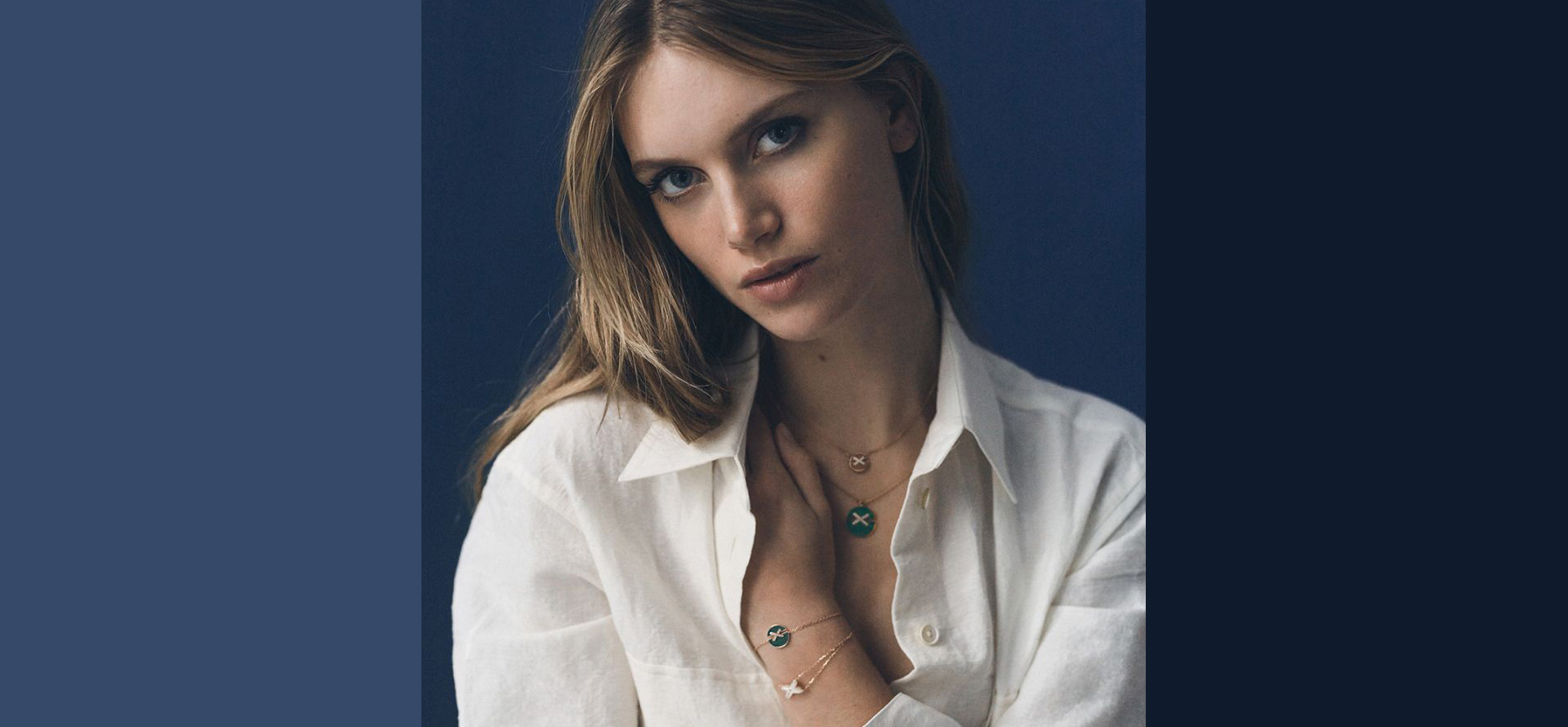 Chaumet: from Paris with love
Jewellery with meaningful sentiment is at the heart of the world of Chaumet. The Jeux de Liens Harmony collection is tender confirmation of this. Its new pendants* marry the iconic kiss of the crossed links with a lucky charm. Joséphine de Beauharnais would have adored this beautiful allusion to the bond between two souls. Chaumet was her official jeweller: why not yours today? 
*Their adjustable chain means you can wear several of them together, set at different lengths.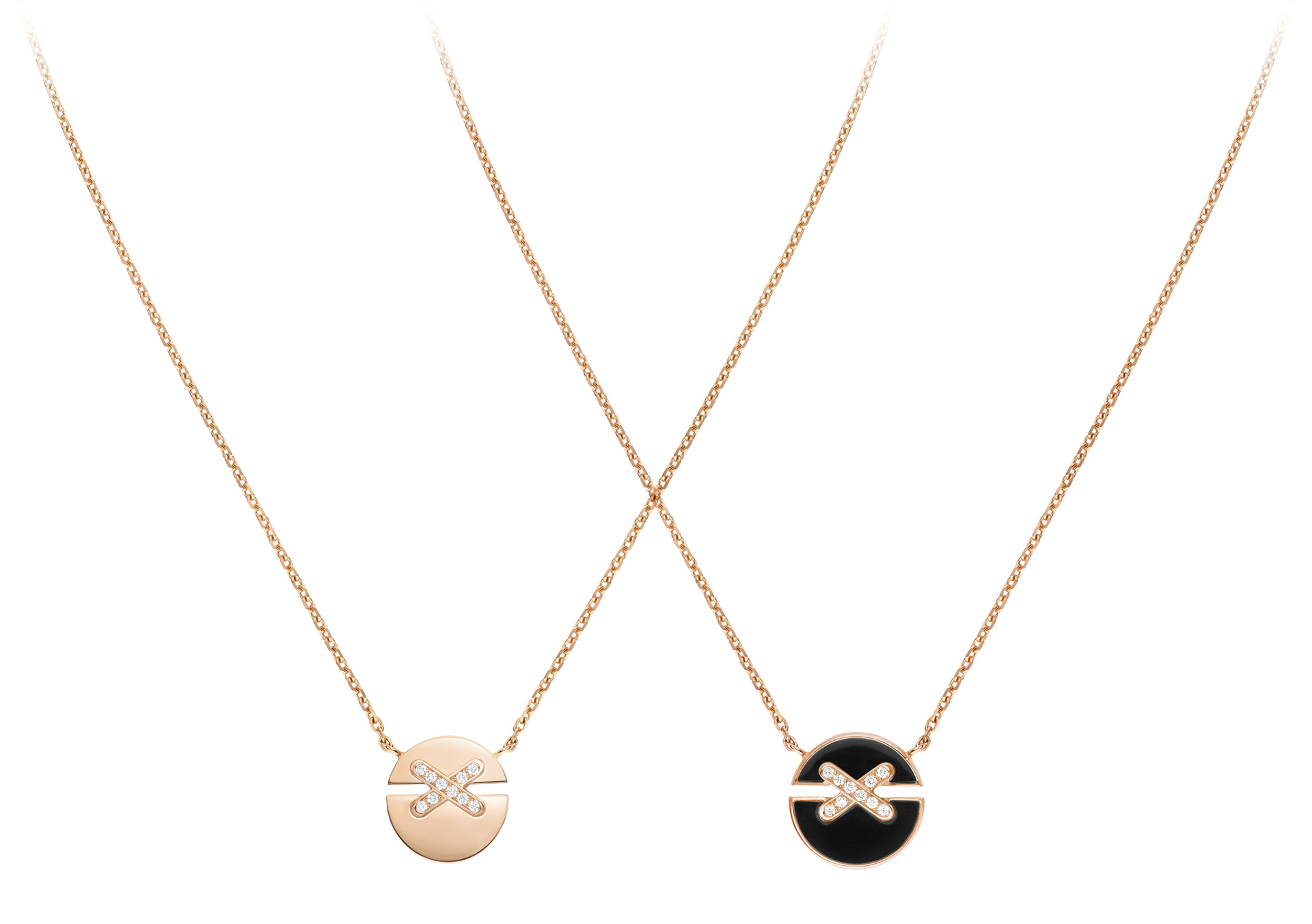 Enchanting
Jeux de Liens Harmony pendant, small model, rose gold, crossed links set with diamonds: 2,210 €.
Glossy
Jeux de Liens Harmony pendant, small model, in rose gold, set with onyx and brilliant-cut diamonds: 1,740 €.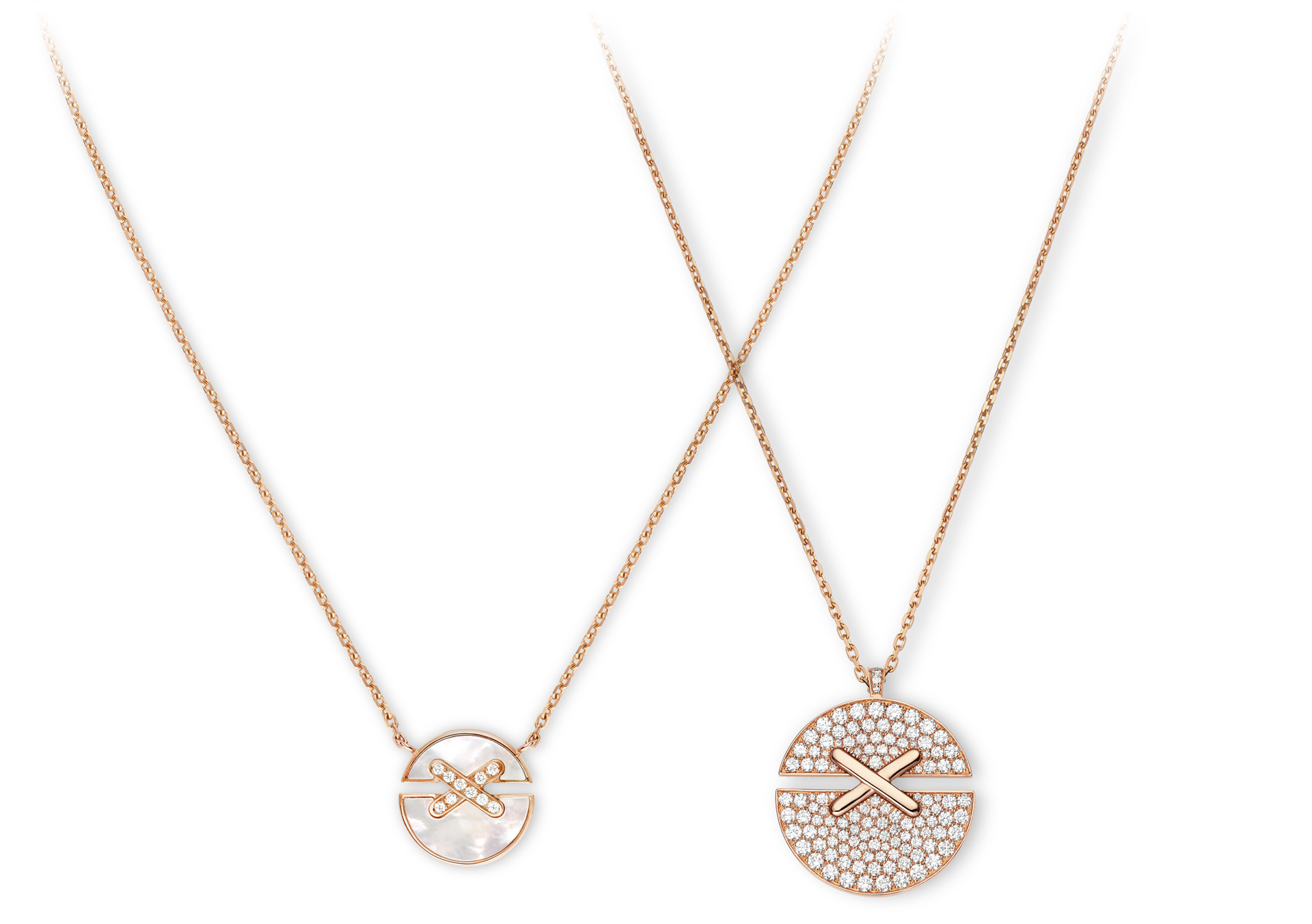 Iridescent
Jeux de Liens Harmony pendant, small model, mother-of-pearl and rose gold, set with brilliant-cut diamonds: 1,740 €.
Sparkling
Jeux de Liens Harmony pendant, small model, in rose gold, pavé-set brilliant-cut diamonds: 3,750 €.

Garel Paris: design and diamonds
Its name glows brightly on rue de la Paix, its philosophy makes perfection sparkle. For more than 25 years, the Garel Paris label has insisted on entrusting the creation of its collections to its own luxury jewellery-making workshops. Exacting technical standards accompany each stage of designing and making the jewellery there.
The result: contemporary, graphic and clean lines.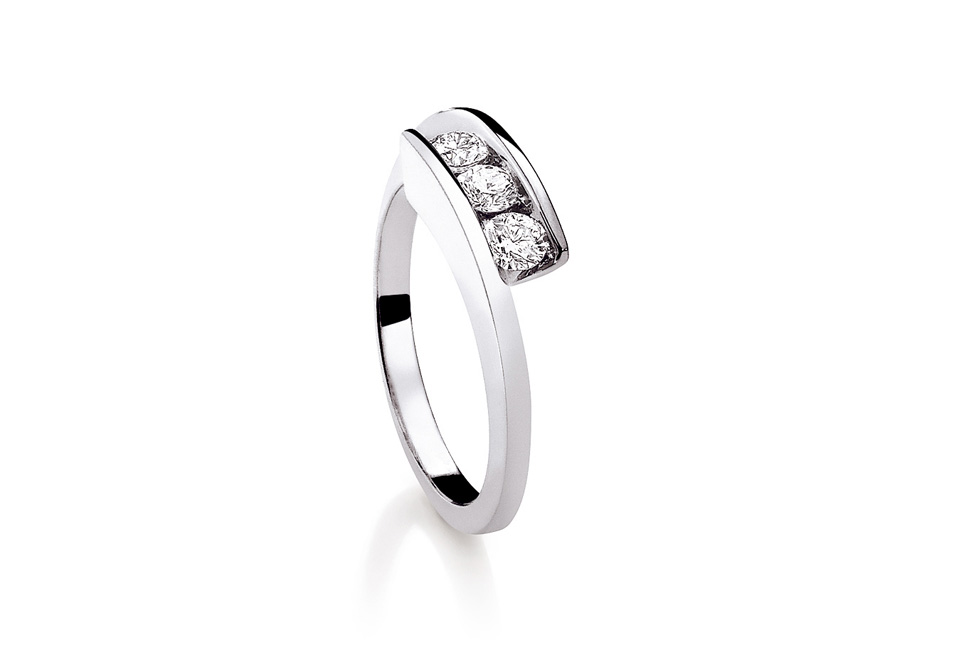 For life
Envol wedding ring in white gold set with a trio of diamonds totalling 0.36 carats: 2,390 €.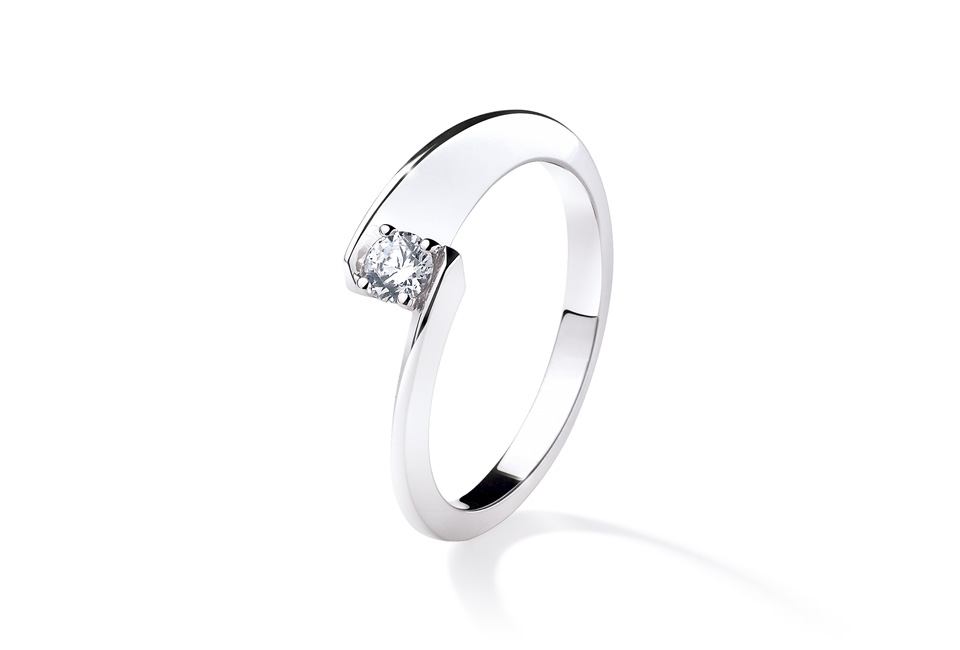 Something different
Envol Solitaire ring with a line of white gold capturing a 0.20-carat diamond: 1,690 €.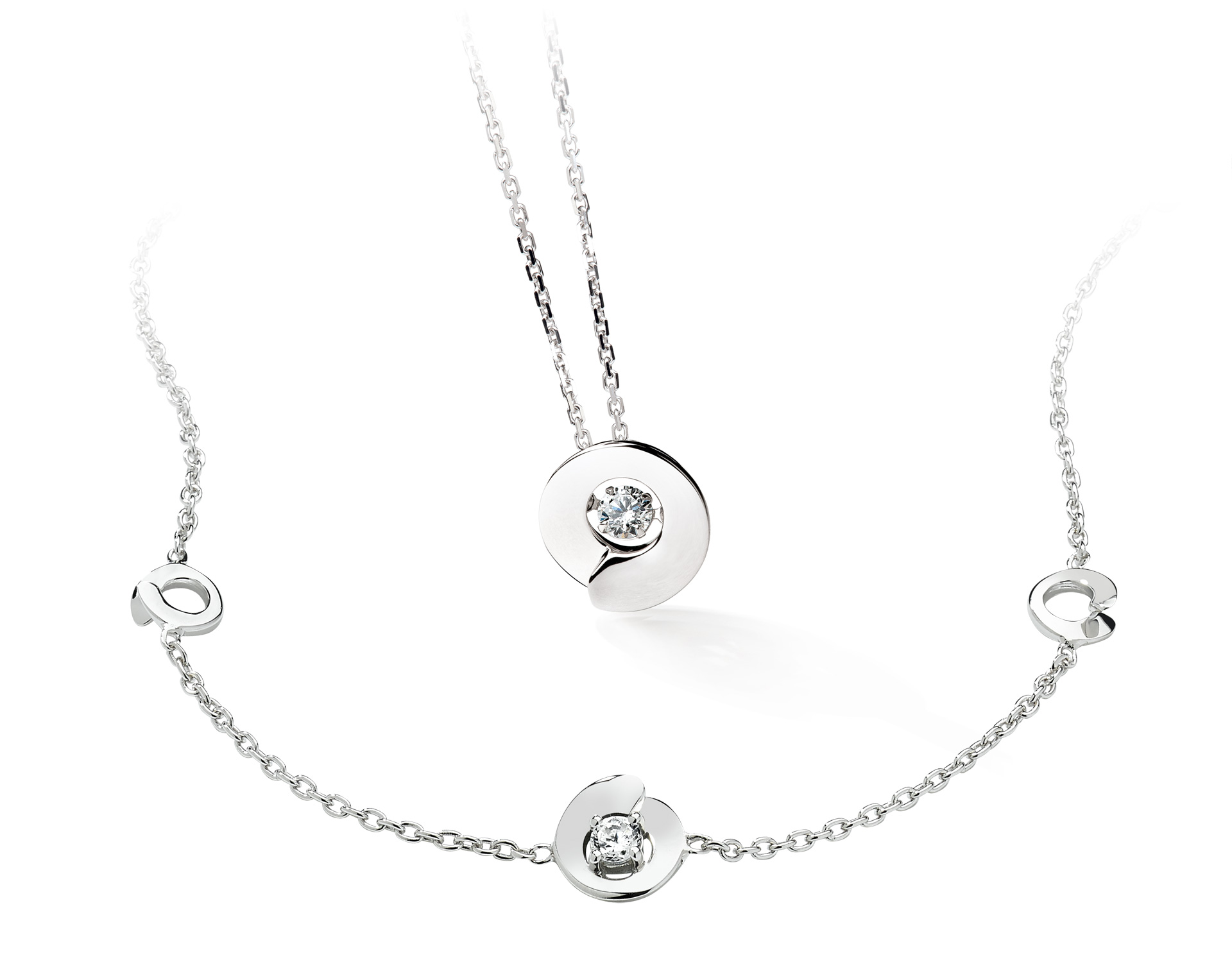 Lighting a spark
Envol Dancing Stone necklace with a white gold ellipse encircling a diamond: from 950 €.
Accentuated wrist
Envol bracelet in white gold enhanced with a 0.10-carat diamond: 850 €. 
STAY UP-TO-DATE.
Be the first to receive the latest news about TOLLET.
When you tick the box above, you accept that the email address extracted from this form will be used and processed according to our data protection policy [ https://www.tollet.com/en/privacy-policy/ ], to enable you to receive the latest news from Tollet. We will NEVER pass on your personal information to third parties for commercial ends.